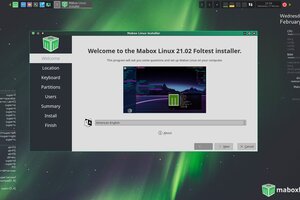 Mabox, a distribution based on Manjaro and slightly preconfigured Openbox that works excellently even on weaker computers.
Mabox 21.02 Foltest is equipped with the latest 5.10 LTS kernel , of course, you can easily install other kernels and decide which one to run at boot time.
The installer offers the option to choose free or proprietary drivers at startup, (select the free or non-free option).
This release includes a number of fixes, new / updated packages and new features.
Menu / Side panels many improvements: gradients, configurable position of side panels, lining, edges, submenu spacing, rounded corners, edge
Tint2 panel - now it is very easy to add launchers to the panel
Tint2 panel optional mini HW monitor for system - phwmon.py
[FIXED] Conky displays a wrong memory usage error
mb-reset - help command for resetting / updating configuration files
jgbrowser pipemenu - now count directions and files, hidden file switching added
SSH connections - pipemenu - analysis ~ / .ssh / config
Sys Info pipemenu - click-actions added where they make sense (kernel, packages, resolution). jgbrowser added to mountpoints.
Source: maboxlinux.org
What is your reaction?
powered by Verysign
Like

Unmoved

Amused

Excited

Angry

Sad
TENDINTA
| MakuluLinux LinDoz - designed to keep a familiar - Windows like look
---
---
---
Comment
powered by Verysign
Comments
Nici un comentariu inca. Fii primul!