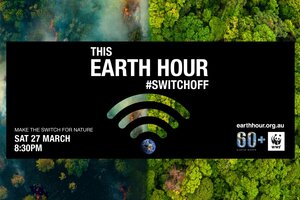 Earth time has always been for everyone. Every year, Earth Hour turns individuals, schools, companies and communities into a powerful movement for change.

This year's Earth Hour encourages people everywhere to do #SwitchforNature to support Australia's transition to a renewable economy.
Simple choices you make in everyday life can help the planet.
- Switch to solar energy.
- #SwitchOff your lights for Earth Hour to show your support for Australia to become renewable.
This year's Earth Hour competition award - a brand new Fonz Moto electric scooter to help you create #SwitchforNature!
Sign up for Earth Hour 2021 to participate in the draw.
Join this Earth Hour on Saturday, March 27 and at 8:30 pm local time and be part of the global #SwitchforNature movement
What is your reaction?
powered by Verysign
Like

Unmoved

Amused

Excited

Angry

Sad
TENDINTA
| NomadBSD 130R-20210508 - change the versioning scheme
---
---
---
Comment
powered by Verysign
Comments
Nici un comentariu inca. Fii primul!