SolusOS is a modern operating system based on the hugely popular Linux distribution, Debian. It works out of the box with great support for all your modern day computing needs including word processing, audio/video playback and editing, file sharing, and more.

Modern Lightweight Operating System

Enjoy all of the comforts of the modern desktop world on an incredibly light system, suitable for old and new computers alike. Robustness does not have to come at a cost of power.

Multimedia Powerhouse

Once you've installed SolusOS you're good to go. Browse the internet, play your latest 3D games or sit back and watch a DVD. Manage your MP3 collection all from one system. The world is yours. Included codecs help ensure you don't have to worry about your media not being readily playable.

Stability

Not only is SolusOS an incredibly robust and modern operating system, it can directly trace its lineage to the Debian project, following the stable branch of the distribution. Never again will you have to worry about "dependency hell" or buggy software destroying your installation. Through this leverage, we are able to provide you a pleasant user experience and keep everything running smoothly.

Accessible Community

Our community is readily available through our Forums or IRC. Speak directly with the developers of the project, and provide your input to them. We truly believe in the power of the community to keep us moving day to day.

Feature Requests

Missing software in the repository? Some ideas for software that could benefit not just you, but the community as a whole? We are looking to improve the Linux user experience for everyone. It's that passion that drives us forward. Let us know your ideas – you might see them come to life and get developed.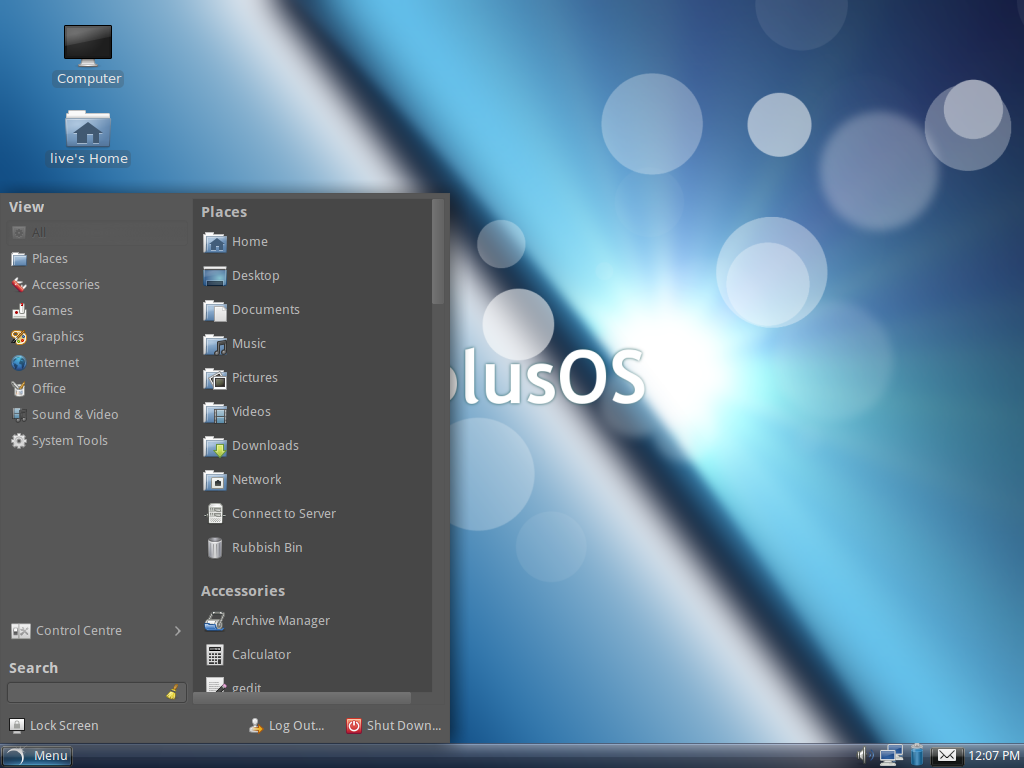 Latest version - SolusOS Eveline 1.2 (Sep 2, 2012 ) :
SolusOS Eveline 1.2 Legacy Released

Posted on Sep 2, 2012 | 0 comments

The SolusOS team is pleased to announce the release of SolusOS 1.2. This is a maintanence release for the Eveline 1.x series. You can now download for 32-bit PAE or non-PAE, or 64-bit computers. This legacy release brings support for users of older chipsets or problematic hardware (such as nForce, Broadcom, etc.)

Brief overview of software versions

Firefox 15.0
Thunderbird 15.0
LibreOffice 3.6.0
Linux Kernel 3.0.0-ck1-solusos (with BFS/preempt/no dyn ticks/1000Hz)
iptables 1.4.8
ufw 0.31.1
hplip 3.12
VLC 2.0.1
Pidgin 2.10
GNOME 2.30

Many new applications are available in the software repository.

Feedback
Please use the SolusOS Forums for support and feedback

About this release

Certain issues were encountered with the 3.3.6 kernel for some hardware, i.e. users of nForce hardware, the onboard nvidia graphics (MCP61 booting to black screen), forcedeth (nforce) users, certain 10MBit LAN chips, and various bluetooth and broadcom chips.

This legacy spin intends to address those issues for a select set of users by providing an older kernel that hasn't got these regressions.

PAE vs Non-PAE

32-bit Operating Systems can only see and use up to roughly 3.2GB of RAM. If you have more, but don't want to use 64-bit, please ensure your CPU supports PAE. If it does, use the PAE SolusOS ISO to utilise all of your RAM. If you have no need then just use the non-pae kernel. Even if your CPU supports it, if you haven't got enough memory to warrant using PAE don't use it. It carries a slight overhead and will use a bit more memory than the non-pae build. By this nature the 64-bit system is heavier still (trade-off for having more memory is you use slightly more to address all of it)

Plymouth Issues

Some users may experience issues with an incorrect resolution for Plymouth. This was done to ensure best proprietary driver incompatibility (as the console drivers were being affected) If you have issues with this please check the forums over the coming days as a guide will be prepared

Last but not least
Thank you to everyone involved in SolusOS. Without your help none of this would be possible. We
hope you enjoy this release as much as we have enjoyed creating it
System Requirements
64-bit Edition: 64-bit capable processor
32-bit Edition: x86 Processor
512MB RAM
3GB free disk space
Display capable of 1024×768 resolution
A DVD-R/RW or USB thumb drive
Team
Lead developer and project founder, Irish software developer living in England and one of the original developers of LMDE. I am dri­ven to pro­vide a dis­tro which so many peo­ple are look­ing to find. If you want a stable dis­tro that allows you to use cur­rent soft­ware appli­ca­tions and is developed by some­one who just refuses to set­tle for any­thing less than top-notch, Solu­sOS is your answer.
Ikey Doherty Project Leader and Head Developer
Project Co-founder and Release Manager/Quality Assurance lead. Currently employed as a sysadmin living in the United States. One of the original developers of LMDE. Justin enjoys maintaining a high standard of quality assurance, bug testing software, managing projects, writing documentation, and empowering the community to make change in their world with FOSS software.
Justin said: "I believe strongly in delivering the best service and user experience to every person, and I don't settle for any less than the best."
Justin Krehel Project Co-founder, Release Manager, Q&A
Computers enthusiast and a passionate artist. He do paint, draw and fix – he build the stuff! Angelo is also open minded, free thinker and philosopher. He like long walks on the beach and have a strong tendency to always try different shoes. Angelo joined the Linux Mint project back in late 2009 which was one of his best decisions, but later on, needed a more democratic and revolutionist team to work with, hence SolusOS.
Angelo said: "Art is my way, lets draw it!"
Blake Angelo (Se7en) Main SolusOS Artist
Forum and IRC Community Teamleader and bugtester. Maik came in touch with the project through Ikey and got hooked on it from the beginning.
Maik said: "I'm straight to the point, no nonsense, a gentle but sometimes firm hand that is needed on the forum and IRC."
Maik Adamietz (Mr.B) Forum and IRC Community Teamleader
Forum and IRC Community Moderator, bugtester living in the Serbia. Marko have been in SolusOS project since the early alpha stage.
Marko said: "I'm a team player who enjoy bug testing and helping others."
Marko Taka? (Marezz) Forum and IRC Community Moderator
Cititi mai multe stiri/noutati despre Solus Project aici ...
What is your reaction?
powered by Verysign
Like

Unmoved

Amused

Excited

Angry

Sad
In context
---
---
---
Comment
powered by Verysign
Comments
Nici un comentariu inca. Fii primul!