Katherine Tait, US Ambassador to the Biden-Harris Administration, supports the waiver of IP protection for COVID vaccines. Catherine Stihler of Creative Commons has taken a stand on this topic:
As we all know, there is a global shortage of vaccines. Taking action to ensure more people get access is the right thing to do. Full stop. It will also benefit all of us. If we do not get the world vaccinated at the same time, new variants of the virus will arise, which the current vaccines will not be able to protect us against. The US Government recognises this reality and does not want to jeopardise their hugely successful vaccine rollout without playing their part to help the rest of the world. As Ambassador Tait's tweet said; "These extraordinary times and circumstances…call for extraordinary measures. The US supports the waiver of IP protections on COVID-19 vaccines to help end the pandemic and we'll actively participate in WTO negotiations to make it happen." Notice the choice of words: end the pandemic.

COVID knows no boundaries, does not recognise the nationality of its victims and if we do not have a global approach to vaccinations, we will never bring the virus under control and end the pandemic. If the global North gets vaccinated whilst the Global South does not, this is a tragedy of our own making and we will all ultimately suffer. You might be getting tired of the virus, but the virus is not tired of you.
Katherine Tai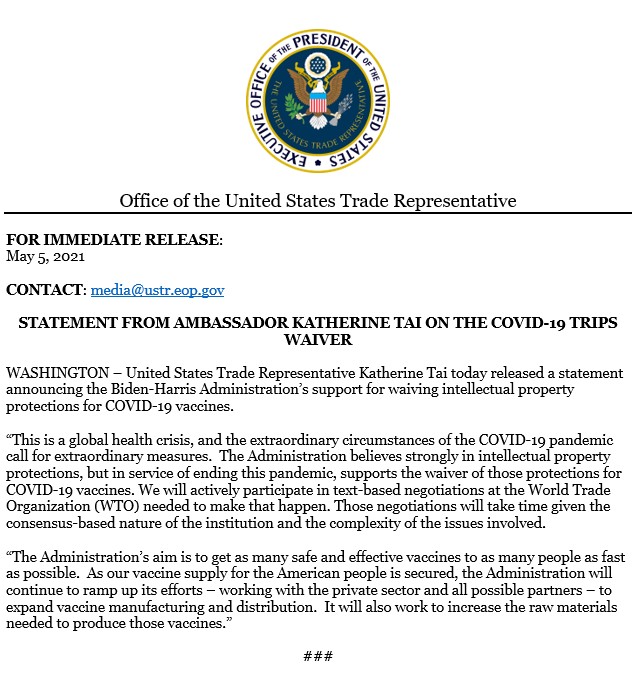 Source: creativecommons.org
What is your reaction?
powered by Verysign
Like

Unmoved

Amused

Excited

Angry

Sad
---
---
---
Comment
powered by Verysign
Comments
Nici un comentariu inca. Fii primul!